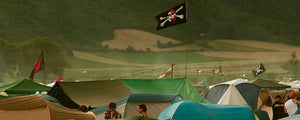 To have an enjoyable 360° festival experience, try camping!
n area of over 4,000 square meters is reserved for free camping, included as part of your ticket. Divided into blocks, the area is equipped with running water, showering facilities, and over 200 of gender-specific portable toilets with free toilet paper, continuous service maintenance, drainage and cleaning, as well as free toilet paper. To further improve the experience this year, the campsite will also be equipped with 6 potable water dispensers, as well as an enhanced area with dozens of taps for washing dishes. For the entire duration of the event, there will also be a tent-to-tent garbage collection service, thanks to the support of CO.SMA.RI operators. At the entrance to the Festival, a differentiated waste collection kit will be distributed to each participant.
N.B. No generators are permitted in the campsite, but you can bring small solar kits. Fires on the ground are also forbidden, while BBQs and similar cooking means can be used provided they are constantly manned by the owner. A 24-hour emergency and safety service will be present throughout the camping area. However, it is advised not to leave valuables unattended in tents. In case of emergency, a special number will be printed on each bracelet. Upon arrival, it is advisable to view your lot number to facilitate any type of emergency intervention.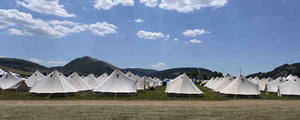 A campsite already equipped for those who do not own a tent. All the info here.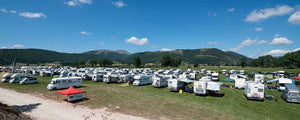 A space dedicated to campers with black water disposal, as well as welcome and info points administered by Cocovan, the first community to connect motorhome owners & travellers willing to host and be hosted.
Do you have space in your camper to offer, or are you looking for some good Samaritans to share travel expenses with? Join the community of the FB group Cerco/Offro passaggi per Montelago Celtic Festival and find your ideal company - tent, car or camper!
There is no need to book the space for your camper.
Families with children who want to have a calm Festival experience can pitch their tents in the separate Family Camping area in the TENDA KIDS, a fun and safe space designed specifically for their needs. The Family Camping is equipped with bathrooms for the exclusive use of families with children, as well as two shade structures in the heart of the Family area where you can find shelter from the sun during the hottest hours. Discover all the activities planned for the little ones in the KIDS section of the site.
B&B, ALBERGHI, FORESTERIE
For those who don't like camping, the Festival's surrounding area is full of accommodation options.
Here are some of them:
Hotel Plestina
Hotel Lieta Sosta
Relais Forti
Hotel Villa Fiorita
Locanda Montigno
B&B Avalon
Villa Cappelletti